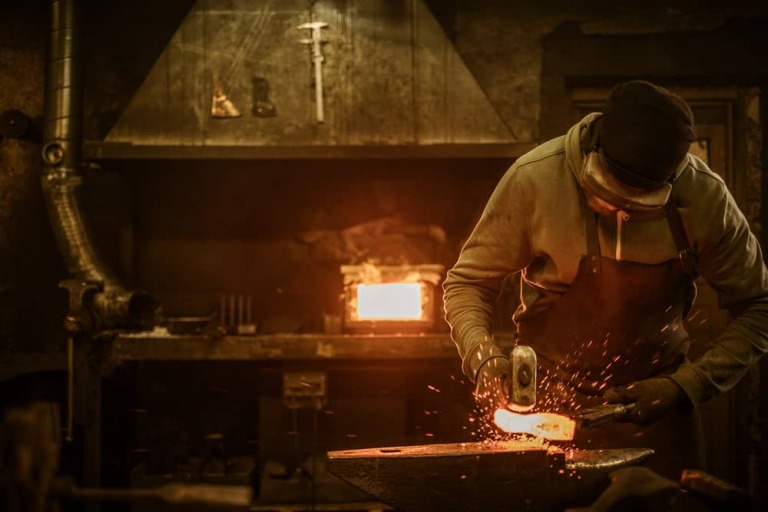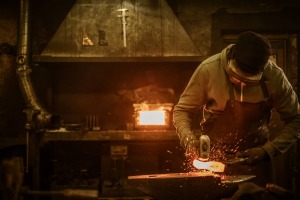 Welding can be one of the most rewarding experiences in life. It is a skill that can take you toward a number of different industries. You can use this skill to create a side hustle for yourself. You can pursue a hobby or embrace your inner artist.
One discipline that welders should think about discovering with their equipment is forging. Traditional forge welding and arc welding are often used by blacksmiths as part of the creation process.
Through welding, two pieces can be brought together. Welding can be used to combine metal elements before it enters the forge. Blacksmiths often weld their steel to a bar or stand which makes it easier to work with the hot metal.
If you love welding, then you'll likely love the action and opportunity that a blacksmith creates each day.
The 5 Techniques of Forging and Sculpting
Blacksmiths use 5 generic techniques to work their metal as they create amazing pieces:
Drawing. This process helps to lengthen the metal. In doing so, the depth is reduced, and the width is often narrowed. Tapering is then done to draw the metal toward a point. Drawing can be done with a hammer and anvil rather effectively. Power hammers and grinders can be used to work the metal as well.
Shrinking. Not every piece of metal needs to be drawn out. Some metals need to go through a shrinking process first. Metals that are curved need to be heated in the forge then brought flat to become workable. When strands of curved metals are being used, welding helps to keep the pieces together to eventually form one solid block of steel out of many strands.
Bending. This process is usually done over the horn of the anvil. Once the metal reaches the correct temperature, it can be moved into a variety of shapes, based on the needs being met by the blacksmith for the project.
Upsetting. This action helps to make the metal thicker. To make this happen, the metal must be shortened. It can be welded on or heated and folded over. Then the widened part is hammered out to extend the thickness trait.
Punching. This method is used to create slits, cuts, drifts, or patterns into the metal. It can be done for decorative purposes if desired. Punching can also be a method used to create folds in the metal, which are then forged again to create more layers of metal on the piece being created.
With these techniques, the blacksmith may clean the metal when it is hot. Flux might be applied to the metal. Even clay can be added to create specific effects during the tempering process.
It all starts when the various pieces of steel, no matter what they might be, are welding together to maintain the integrity of the block as heats, then fuses, within the forge.
Is a Welder Necessary for a Blacksmith?
Welding is something that a blacksmith will always use once they reach a certain point in their craft. Although some people may be very critical of the use of an arc welder in the shop, just about everyone owns one and will use it on a regular basis when making something.
Welding can also be used to help restore metals that may have experienced errors during the forging process. It adds metal to various gaps or combines multiple metals together to create a finished product of commercial quality.
The real benefit of owning a welder, especially as a blacksmith, is that you can fabricate your own tools with it. You can build your own jigs, even if you focus on traditional forging techniques in your practice.
Is a welder necessary? No. Should you use one if you pursue blacksmithing? That's up to you.
What Is the Best Welder to Purchase for Blacksmithing?
If you want to break into blacksmithing, then investing in a small welder to help foster the learning process will be of benefit. You'll want to keep a small welder separate from your other welding equipment that is dedicated only to the forging process. Forging environments can be tough, and you don't want your state-of-the-art welder to be damaged by a learning error in the blacksmithing arts.
Your best option here is to find an affordable wire-fed, flux-core welder. You'll be able to weld almost anything with a small 110v flux core welder.
There are several brands that can provide this type of welder for you, with a handful of different models available at that power level.
Be sure to review the best welders for beginners and hobby welders to get a head start on the shopping process.
If you're looking for a welder that will scale upwards with you as your forging techniques improve, the Hobart Handler 140 MIG is one of the best models you'll find today. It is a bit more expensive than your average starter welder and is still versatile enough to handle all the needs of your shop.
With the Hobart model, you can weld thicker stock when needed. It will let you work with high-carbon steel and low-carbon steel as you experiment.
What About Stick Welders and Blacksmithing?
Stick welders can help you get started on the blacksmithing addiction if your budget is tight. Although this option becomes expensive over time if your forging becomes popular in your community, it is also an affordable way to see if this hobby is right for you.
Try the Campbell Hausfeld Arc Stick Welder for best results if considering this option. It is fairly priced, has enough power to make your welds, and offers a duty cycle of 20% at 50 amps. This welder is capable of welding 18ga on materials on 1/8-inch materials.
Welding can be an addiction. Blacksmithing can be an addiction too. You'll find many folks out there who dabble in both. If that sounds like fun to you, then let's get started on the crafting process today.