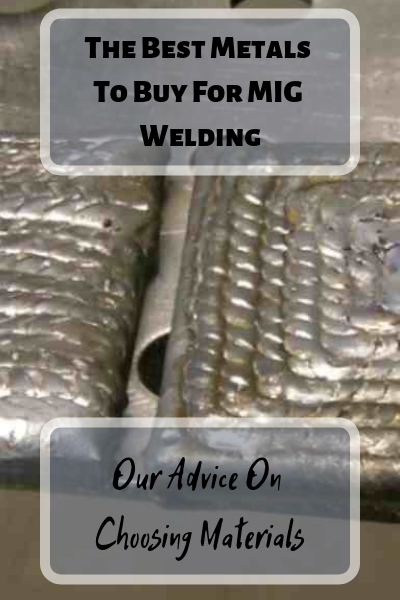 If you have a welding project in mind and you already own one of the best MIG welders on the market today, then you're going to need some metal.
You could use some scrap metal for these projects, of course, but scrap is for practice. You need the "real deal" if you're going to create professional-quality results with your upcoming project.
That means you must select the correct metals for the results you want.
Selecting the correct metals means more than separating aluminum from carbon steel. Anyone with half a brain can recognize that difference.
When you have metals that meet your exact specifications, then it reduces the risk of overbuilding.
Why spend more on metal than is necessary?
Because you are MIG welding, your options are limited to steel, stainless, and aluminum under most circumstances.
Where Are the Best Places to Purchase Metal?
Your best option for good metals that won't require a second mortgage on your home is a local fabrication shop or machine shop. Most shops have metal scrap that they're more than willing to part with, sometimes for free, and that means you've got metal for your project (or for practicing).
The best way to approach a shop is to either stop in person or call in advance to book an appointment with the owner, floor supervisor, or general manager. Then explain what you're doing and why you're looking for some metal.
Although some shops will politely refuse your request, most will be happy to have you pay a little to take their junk away.
This gives you some nice cold-rolled steel, mild steel, or sometimes stainless steel with which to work.
Here are some other options to consider if you're wanting to purchase specific metals for your project.
#1. Online Stores
One of the best options online for purchasing metal is Metals Depot. You'll find more than 50,000 different types, sizes, shapes, and lengths in all your core metals. They sell copper, brass, aluminum, stainless, galvanized, and cold-finish steel. There are no minimum orders either and they'll cut to size before delivery, so you get exactly what you need for your MIG welding project.
#2. Retail Chain Stores
You can also purchase metal at the retail level from most retail chain stores that focus on home improvements, repairs, and renovation. One of the best stores is The Home Depot. They also offer metals in various shapes and sizes for welding. You'll also find sheet metal panels there on the cheap (often $15 or less), plus various tubes, flats, and rods to help you get your work done. As an extra bonus, most locations offer a truck you can rent for $20 + tax if you need help hauling your metals home.
Lowe's is another common retail location to purchase metals for welding.
#3. Local Hardware Stores
If you live in a small community or in a rural location, then your local hardware store is always an option for new metals. Their stock tends to be limited, however, so you may need to place an order at the store to have it delivered in a week or two.
There are several brands that serve local communities in this way. Tractor Supply Company, Ace Hardware, Do it Best stores, and Hardware Store Nation are the three most common local hardware options with national branding that you'll find.
You may also have an independent hardware store locally, like these 8 great independent brands.
#4. Forging Stock
If you're struggling to find any metal through the previous options, then your best bet for MIG welding metals is to look for forging stock. Find a local blacksmith, then ask them where they get their metal. Some might even sell you some of their stock.
Should there not be anyone local, then, amazingly enough, Amazon is an excellent resource for forging metal stock. With shipping, you can purchase 1080 forging steel bar stock for about $20.
Preparing Your Metals for Welding
If you've been welding for a while, feel free to skip this section. This part is for the trainees and beginners who are just starting out on their home welding journey.
There are two basic processes from which to choose when you opt for MIG welding: flux-core and shielding gas.
When your metal is dirty, rusty, or looks like it just got home from a raging bender, flux-core welding is your better option. With the wire, you can get away with welding on unclean metals because the flux helps to remove the impurities from the weld.
On the other hand, flux-core welding gives you slag, which must be removed before the project is completed… and that is never fun.
If you opt for a shielding gas, you will want to make sure that your chosen pure, two-part, or three-part gas mixture is suitable for the project that you're working on.
To prep, your metal for welding, a basic once-over with a wire brush or sandpaper is often enough to clean up your surface. An angle grinder will clean your metal quickly, though you must take care not to alter the shape of the metal with the tool.
Always practice cleanliness at every stage of the welding process.[1] This will improve the quality of your welds tremendously.
Other Places for MIG Welding Metals
If cost is more important than quality for your metals, you will find that scrap tends to be free or close to it. Metal recycling yards will often have every type of metal that you're wanting to use for your welding project. You'll also find scrap dealers are often willing to part with bent and dirty metal without much of a cost.
You can also get creative. Check with construction sites, demolition areas, mobile home movers, landfills, and even the local ironworkers' union to see what may be available.
As you begin looking, you may discover an entire treasure trove of metals just waiting to be used. Use this guide to start your search and then enjoy using that MIG welder!