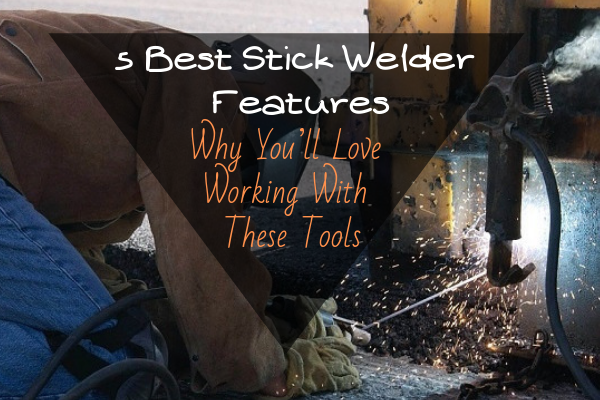 Welding is often thought of as a fabrication exercise.
It is important to remember that there are other outcomes available in the world of welding as well.
If you operate a farm or ranch, have portable repair needs, or have projects that are located in difficult locations, the benefits of a portable stick welder must be considered.
Stick welding has been a staple in rural areas since the 1930s.
Although you have MIG or TIG options, most welding tasks that happen away from home or the shop are completed better and easier when a stick welder is present.
Why You Should Consider a Stick Welder
#1. You Can Weld In Almost Any Weather Condition
If you own a stick welder, then you can weld in virtually any location during any common weather occurrence.
Your welds are still effective with stick welding, even if it is raining or windy outside. Just gather your equipment, get out to your project, and get to work.
That's why it is such a popular option in rural areas.[1]
#2. It Is Not Very Expensive
Stick welding, from a financial perspective, is not very expensive. If you're exploring the world of welding to see if it is right for you, this is your best option.
Instead of dealing with a wire and shielding gas, you're dealing with a minimal investment.
There are some disadvantages to consider, such as de-slagging, then can make stick welding more expensive than GMAW.
It all depends on where you want to weld, your experience, and how you value your time.
#3. Your Pre-Welding Cleanup Needs Are Reduced
Stick welding is less sensitive to debris that is present at the welding site.
You will find that the corrosion, dirt, and paint that need to be cleaned off a welding project takes less time because you're not required to have a perfect surface.
You can't skip the cleaning, of course, but because you can basically scrape and go, there is a time-savings consideration here with stick welding that must be considered.
#4. It Is Very Easy to Change Rods
If you find yourself welding different types of metal throughout the day, then stick welding makes your changes outs a lot easier.
Just swap out the sticks for the type of metal and you're good to go.
With other welders, you may find that it may not even be possible to weld them with the equipment you have.
That limitation is rare with stick welding, though it can be difficult to weld thin metals together with this option.
#5. You Can Attach The Ground Clamp Away From The Welding Point
With stick welding, your ground clamp is not required to be close to your project.
You have more options to place it in a comfortable location that is out of the way from your work.
With practice, you'll be able to reduce splatter and porosity as well, giving you a nice bead for the project you're working on.
Portable stick welding is a go-to method of repair for many.
If you find yourself working on equipment often, consider picking up one of the best stick welders to help you get through that task.