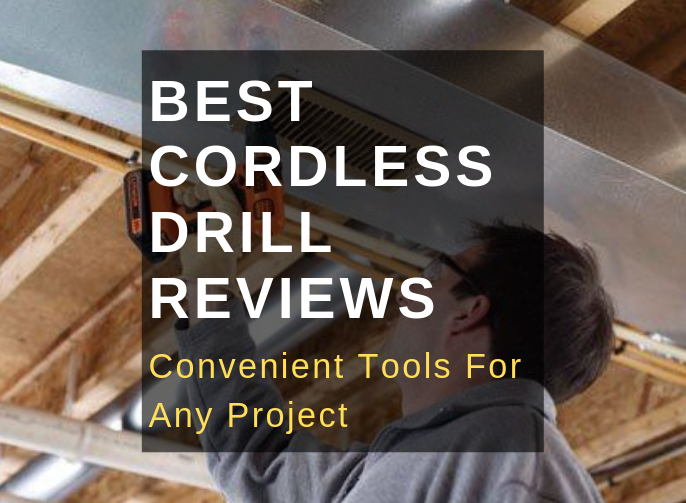 A cordless drill offers a convenience that is hard to pass up. But aside from convenience, these nifty tools are chock full of features that can deliver speed, power, portability and durability. You will never run out of choices any time soon but let us help you sift through your multitude of choices, so you can choose one sans the inevitable buying stress.
Best Cordless Drills
Here are the cordless drills we highly recommend getting:
Now check out what these cordless drills have to offer:
1. Black + Decker LDX120C Max Lithium Ion Drill/Driver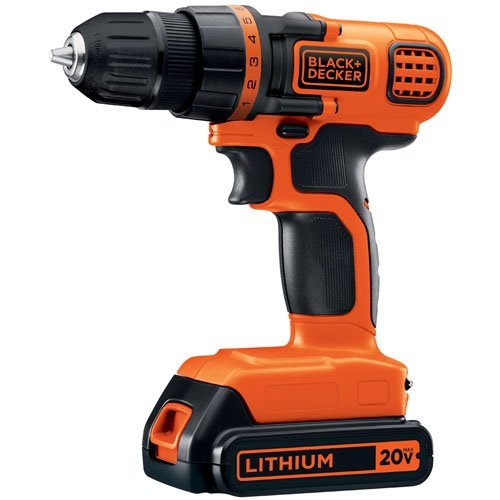 Whether you are drilling screws into wood, metal or plastic material, this drill and driver combo is a force to be reckoned with. It boasts of an 11-position clutch system that allows you to get maximum control over the drill. This is perfect for those more sensitive drilling needs.
Never get tired of drilling again if you use this one because of how lightweight and compact it is. It is easy to hold and maneuver. In fact, you can get into those tight spots and corners with very little issue. With its lithium ion technology, this won't fail you with its power. It uses 20V maximum power and has a variable speed setting that lets you do countersinking minus the damages.
Pros:
This is an affordable and well-built unit designed to last for a long time and withstand wear and tear. It won't disappoint when it comes to its durability.
Although it has a rigid build, it is surprisingly lightweight. You can carry this all day or do drilling work without experiencing hand strain and fatigue.
This is ready to be used. No rigorous assembly is needed. It is ideal for newbies who might struggle with the use of their cordless drill.
It comes with an LED work light. That should help illuminate your work area better.
You can drill continuously with its long battery life.
This unit is backed by 2 years of warranty. Black + Decker has a good customer service you can rely on if you encounter problems with your purchase.
A lot of people said this has a good balance. They were able to use it in areas where an awkward position might be needed.
Cons:
Some said it doesn't have enough power. It might be ideal for small to moderate jobs but for heavier drilling work, it might not be the best.
2. Dewalt DCD771C2 Max Cordless Lithium-Ion Compact Drill Driver Kit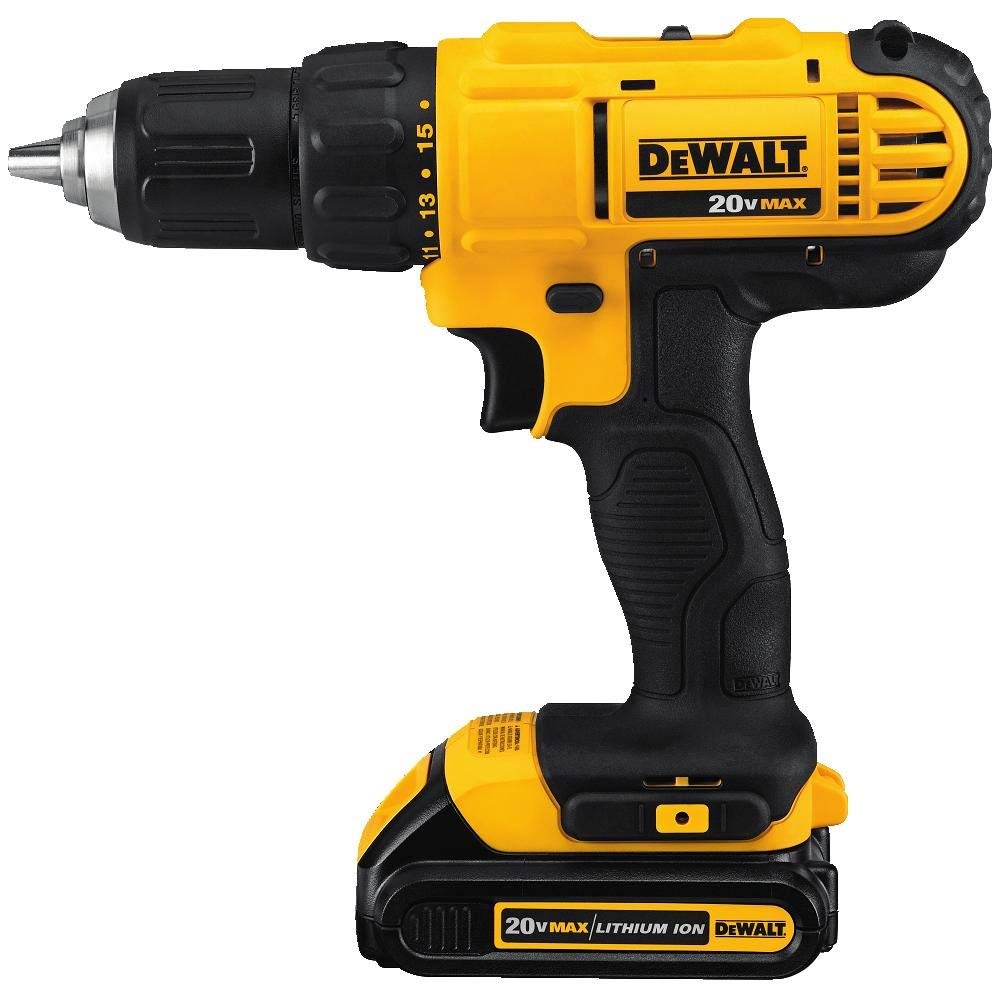 One of the caveats to using a cordless drill is the need to replace its batteries. That can be such a hassle when you are in the middle of working. That won't happen to you with this Dewalt Max Cordless Drill. It has one of the best battery life and capacity out there. One charge can give a long time of usage.
In addition to its superb battery capacity, it is easy to choose this drill because of its speed. You get two-speed settings, which is 0-450 and then 1500 rpm speed. Whether you are fastening or drilling, this should get the job done with zero problems. Its ergonomic design coupled with its high-performance motor makes this an ideal choice for a broad range of projects and applications.
Pros:
The battery life of this cordless drill can't be beaten. There is one who said he got most of his work done without finding the need to recharge the battery. That makes this a great companion for your longer hours of drilling work.
It is compact and lightweight. It also has an ergonomic handle that promotes comfort. You can easily get this in tight spaces and corners.
It is quite a powerful drill even though it has a small packaging. With 300 unit watts out, you can be assured that it can get even the more heavy-duty drilling jobs done. It is perfect for weekend warriors and professionals alike.
This cordless drill is backed by a 3-year limited warranty. That is longer than the standard warranty offered by other brands.
It comes with a bright LED light that should suffice in brightening up even the darkest of work spaces.
This is a complete kit. With it comes 2 batteries, a charger and a soft case. You don't have to spend more money to buy these other accessories. The 2 batteries included are also very useful because you can use the other one once the charge of the first one is used up.
Cons:
It is quite a basic cordless drill, so if you are looking for bells and whistles, you are bound to be disappointed.
3. Milwaukee 2691-22 Compact Drill and Impact Driver Combo Kit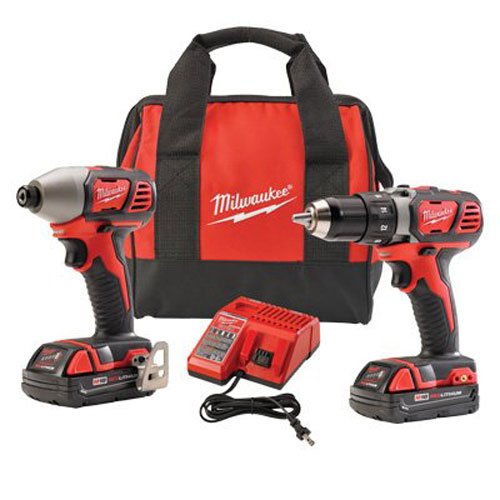 It's hard to find something bad about this drill and impact driver combo kit. You are saving a lot of money by buying two tools with the price of one. What is even better is that both tools deliver, especially when it comes to power. This drill has 400 inch-pounds of torque.
With only 4 pounds of weight, this drill set is just the thing you need for all those demanding jobs. It comes with a full suite of features such as battery fuel gauge, built-in LED Light and variable speed trigger.
Pros:
You can save a lot of money with this drill kit because it contains a lot. Aside from the 18-volt compact drill/driver, you are also getting a hex impact driver, a charger, 2 batteries and one belt clip that are all encased in its soft carrying case. The carrying case makes this easier to organize and store.
It is quite lightweight. You can do overhead drilling work and carrying this with you for hours without feeling too much strain or fatigue.
The battery fuel gauge is a nifty feature. It tells you when you are losing juice and when you need to prepare the other battery for replacement. That way, your work will never be interrupted by powerless batteries.
The variable speed triggers help you find the best setting that is most suitable for all your projects.
Your purchase is backed by an impressive and unmatched 5-year warranty.
4. Tacklife Lithium-Ion Cordless Drill Driver Set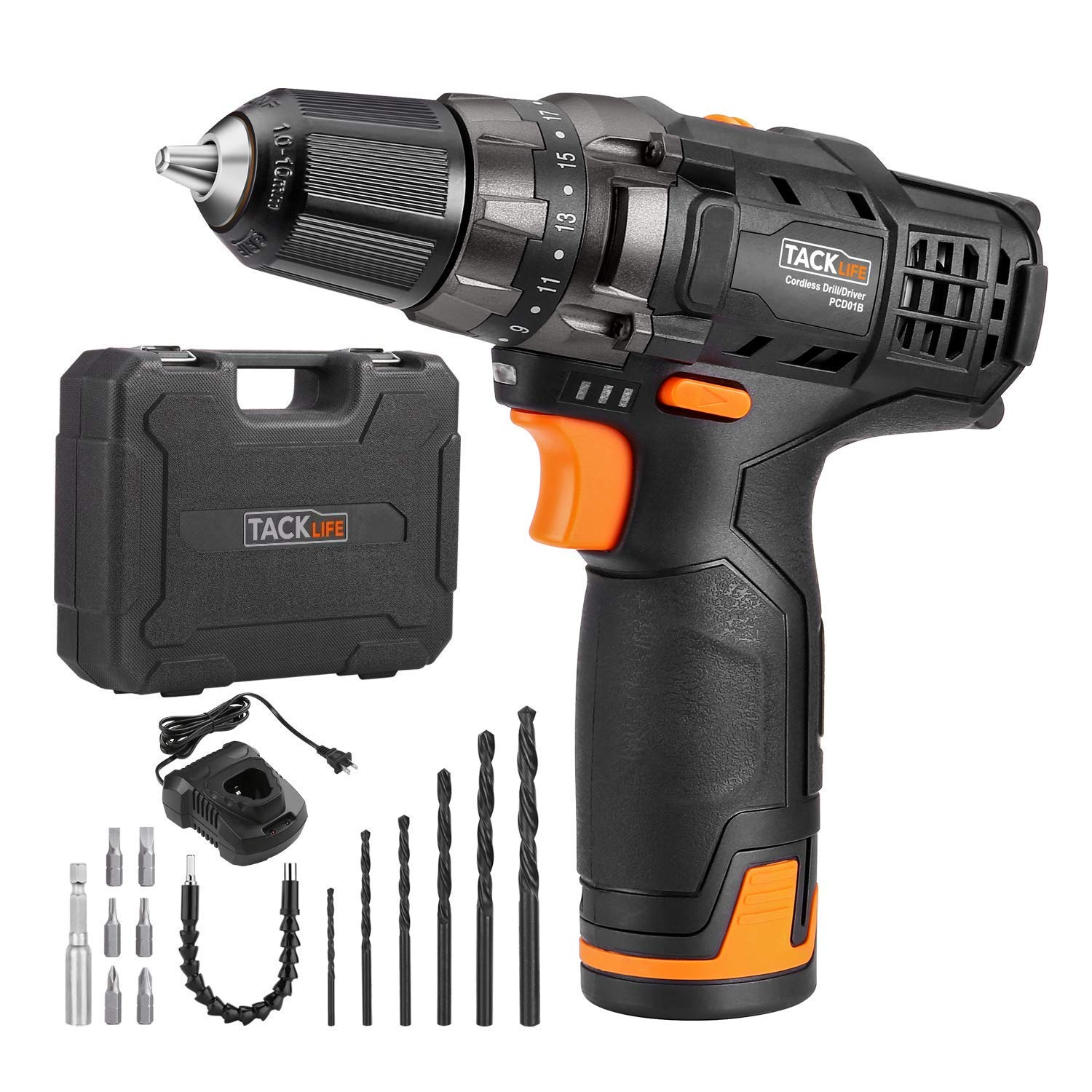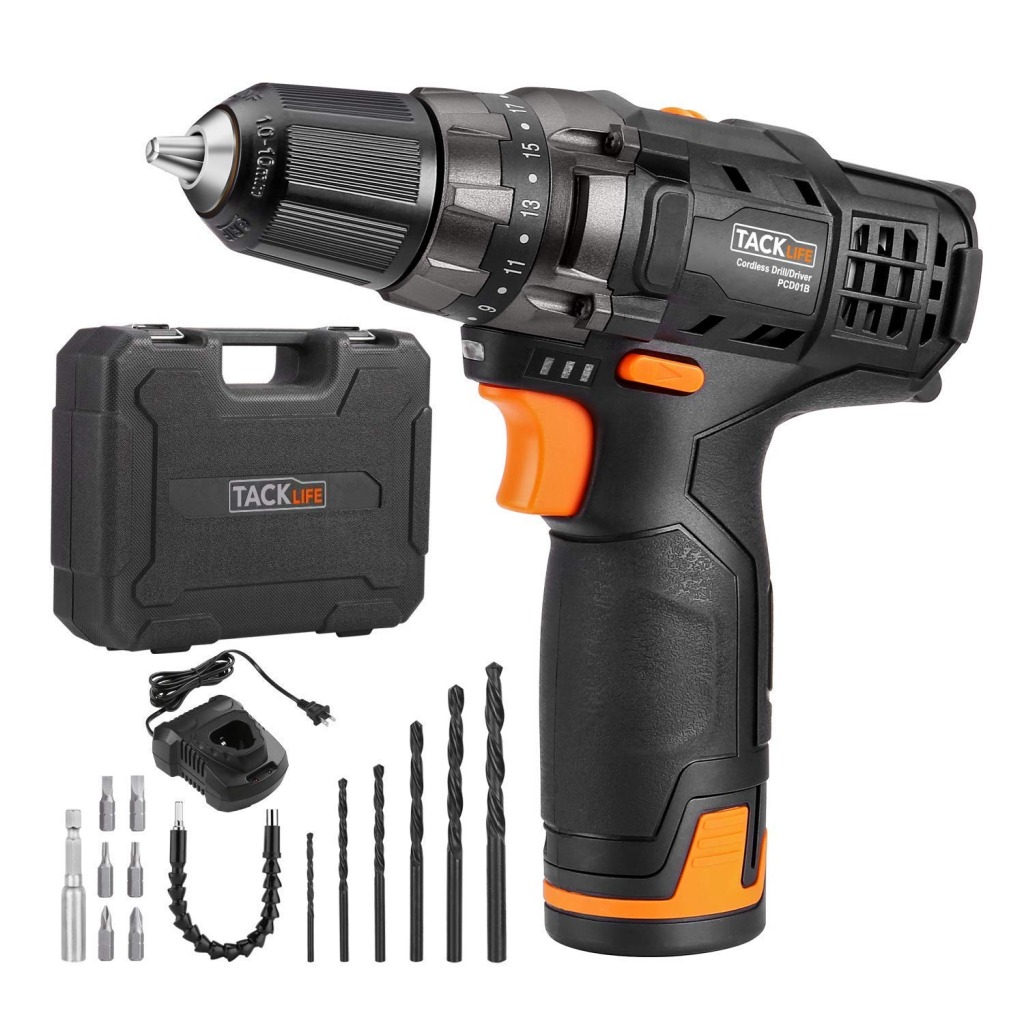 This might be the least expensive one among the other cordless drills in this list, but it definitely isn't lacking in features. Let's start with the rechargeable lithium-ion battery that holds a charge really well and can be recharged fast. An hour is all you need to completely recharge this thing.
Choose from 2 different speed setting that can be easily set through its variable speed pressure trigger. What is remarkable about this is that it offers you 19 different torque settings. That will help you get the right power for the particular material you are working with. If you are working with more delicate materials, a lower speed setting is advisable.
Pros:
Its 19 torque setting is one of its best features. It lets you choose the exact setting that is ideal for the project you are working on. That will avoid instances where you damage your material because there is too much power. You can set its low-speed setting if you only need a small torque such as when doing fast screwing.
It has an overload protection. This prevents the batteries from overcharging and over-discharging.
It comes with a built-in LED light. There is even an indicator light that lets you know how much battery you still have left.
This is one of the most affordable cordless drills out there. It will certainly not break the bank.
You would think it is flimsy because of its low price but it is actually the complete opposite. It feels sturdy and well-built. There are no parts that are in danger of coming off.
It is backed by a 24-month warranty.
Cons:
There were those who struggled with bits loosening up when they are working with heavier materials like wood.
Which One Should You Get?
Value for Your Money: Black + Decker LDX120C Max Lithium Ion Drill/Driver. This cordless drill is one of the best because of its price, it has a pretty decent quality. It's not top-of-the-line but it gets small to moderate jobs well. If you need something reliable but don't fancy spending too much money, this should be the ideal choice for you.
Exemplary Battery Life: Dewalt DCD771C2 Max Cordless Lithium-Ion Compact Drill Driver Kit. Isn't it frustrating when the battery gives out just when you are at that crucial moment of your project? That won't happen if you use this drill. With its long battery life, it will take a long time before you need to replace the battery. And since it comes with an extra battery, interchanging the two should make life a lot more convenient for you.
Excellent Power: Milwaukee 2691-22 Compact Drill and Impact Driver Combo Kit. If you want something that you can use for more heavy-duty projects but don't fancy spending hundreds of dollars for just one drill, get this one instead. It has a lot of power to offer but it comes in a kit that should be worth its weight in gold. The unit is very handy and easy to use.
Most Affordable Choice: Tacklife Lithium-Ion Cordless Drill Driver Set. For the price of a mid-range cordless drill but the build and features of a much expensive model, this unit definitely deserves a lot of accolades. It is one of the best in its price range and can even give the more expensive ones out there a run for their money.
More Tips in Buying a Cordless Drill
By now, you should already have an idea which cordless drill to get. It's hard to go wrong with the above-mentioned options. But to make sure that you are getting the best one, here are some more tips to keep in mind:
1. Know your purpose.
What are you going to use the drill for? If it is only for some light work at home such as drilling screws, something basic should suffice. If you pay more for an entire kit that also comes with, say, an impact driver, you are overpaying for something you are unlikely to use. So, take your personal needs into consideration first before anything else.
2. Find a good brand.
Yes, brand name matters when it comes to tools. That will tell you how well-engineered and built your drill is. If it is from an unknown brand, chances are, you won't get the best quality from it. With a brand name that has been around for decades now, you can be assured that your cordless drill is a recipient of decades of expertise.
3. Decide on how much you are going to spend on it.
You don't necessarily have to go for the most expensive one, unless you actually have a need for that extra feature, then by all means, spend that extra hundred dollars. But if you can make do with the basic features, there's no reason to spend so much money. Of course, you also have to think about quality. Low price often equates to low quality, so make sure you still set a reasonable budget for it.
4. Look for those with variable speed settings.
A drill is supposed to be a flexible, all-around tool. It won't be much use to you if it only comes with a handful of settings or even just one-speed setting. That will restrict your usage of it. Best get those with variable speed settings, so you can use them for a variety of purposes.
Conclusion
So, go ahead and click the links of the products you think are the best choices for you. Don't forget to check out different pages on our site for the best tools that you can use for DIY projects.