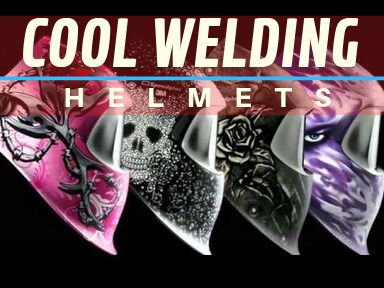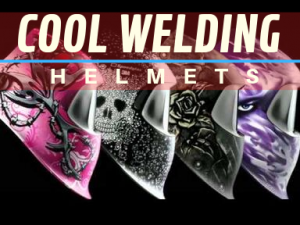 Welding helmets offer the chance to show off your personality while still providing your eyes and face with the protection that it needs. If you're willing to invest a little more into this protective equipment, then these cool and custom welding helmets will enhance the benefits that can be received.
These next-generation welding helmets will not only meet compliance regulations you may need to follow, but they will also provide a greater level of comfort for all-day wear.
Best Cool Welding Helmets Reviews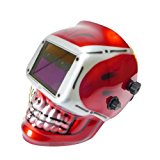 This auto darkening welding helmet is perfect for MIG and TIG applications. It is both solar and battery powered so that you receive an effective shading experience, along with IR and UV protections. The skull-shape and design conforms to your face more than other helmets, which eliminates a lot of the fogging that tends to happen in similar helmets. You can adjust the shade continuously as well through Shades #9-13, plus the cover lens and battery are replaceable so the helmet has a longer life. It's a solid, affordable option.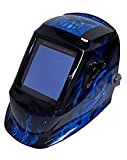 The narrow profile, when combined with the large viewing area, makes this a very useful cool and custom helmet. It's solar powered and offers 4 arc sensors so the shading is fast and accurate. Take this helmet into confined spaces and you'll still be able to weld effectively. It offers a resting shade of #4, with variable shade adjustments from #5-13 so you have the right amount of darkness at all times. With a switching speed of 1/30,000 of a second, it's tough to find a better welding helmet with all of these features at this price.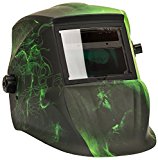 The cool green graphics of this Advantage Series helmet gives you an ADF experience for a viewing area of 7.70 square inches. It offers 4 arc sensors that give you an accurate shading experience in multiple lighting conditions, even if a sensor or two happens to be blocked for some reason. It's also rated for low TIG welding of 8 amps for those who weld in multiple disciplines. You will need to play with the shading settings if you're outdoors and trying to weld, but otherwise, this is a simple and straightforward welding helmet that does what it is supposed to do.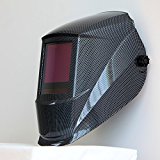 If you need a cool welding helmet that will also provide your neck with some extra protection, then consider this versatile helmet. It works for all welding disciplines, as well as plasma cutting, and there is a grinding feature included too. Shade variations are from 5-13, so it works for virtually all processed. 4 premium arc sensors support the mechanisms of this helmet and you can throw on a cheater lens if you wish as well. With a viewing lens of 3.78 x 3.50 inches, the optics an operator receives is excellent, especially at this price point.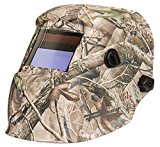 This Premier Series helmet might just tempt you to get lost in the woods. It's a mid-range helmet that offers some variable shading, with a slightly slower reaction time of 1/16,000 of a second. On the other hand, this is also one of the lightest hoods that you'll find in this category and you have easy access to an external shade selector. There is a certain brightness that filters into this helmet, so make sure you adjust the shading before you strike an arc to prevent getting flashed. Reflections are minimal, the clarity is awesome, and the graphics are cool. A great welding helmet for sure.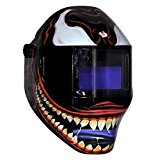 The advantage of this cool welding helmet is the size of the viewing area. It is the only 4×4-inch ADF-integrated viewing lens that is currently offered in this category, offering up to 180 degrees of optics for welding. The headgear comes in the halo design and is reasonably secure, though operators with a larger head might feel like it's a little uncomfortable. It's compatible with a cheater lens, offers a fast-changing system, and has one of the best graphics for a welding helmet that is available right now.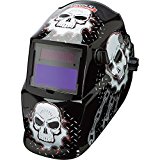 If you want the best value purchase of the category, then you've just found it. Priced for less than $100, but offering an industrial-grade reaction time of 1/25,000 of a second, you'll be able to tackle any job around your property with ease thanks to this helmet. It only has 2 arc sensors, but you have access to external controls that will help you customize your optics for each job. The lenses are impact-resistant and support a 3.81×1.75-inch viewing area. Add in the graphics that are on the shell and you've got yourself one cool and custom welding helmet that is highly affordable.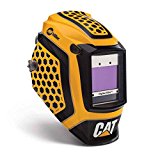 This is a helmet from the Digital Elite series and it will support welders of any skill level. Operators receive 4 modes of digital control with this helmet, allowing most cutting or welding applications to be completed. Grab this helmet for the X-Mode if you work outside a lot, as it will eliminate the sunlight interference for you. The headgear is comfortable and the shading is immediately responsible. It also comes with 5 outside lenses and 2 inside lenses out of the box, backed by a 3-year warranty.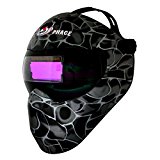 If you're just getting started in the welding world, then it doesn't make sense to purchase a $400 welding helmet. It does make sense, however, to purchase a good quality mask that will give you the protections needed while learning. That's what this fixed shade ADF welding mask provides. It darkens to Shade #10 when it senses an arc, while it rests at Shade #3 for other tasks. The headgear offers 9 points of adjustment that will fit most operators and there's a sweatband that is actually useful. Let's not forget the 23 square inches of optics that are provided as well.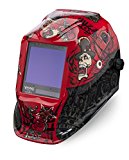 There's a lot of good stuff going on with this cool welding helmet. The graphics are absolutely fantastic. It's comfortable to wear, even for long periods of time. You'll receive clear optics that are responsive whenever you strike an arc. You receive the 4C clarity from this manufacturer as well. It features a replaceable lithium battery that has a solar-powered backup that lets you work uninterrupted for long periods of time without eye fatigue. Grab this helmet now before the price goes up.
The best cool and custom welding helmets will help you work in style. They'll also provide your confidence with a foundation to encourage skill development. Pick up your favorite look today and it will be money well spent.
Although we've reviewed several of the best custom welding helmets, if we had to select just one for you to buy we would say the Neiko pips the others at the post thanks to its cool design. You may also check out our guide about auto darkening welding helmet options when you go here. Out site also features the best welding accessories to use for different DIY projects so do check them out.
Here are the Best Cool and Custom Welding Helmets in One Chart

Because of the customization that each welding helmet has in this category, it is important to make an investment into a top-rated model that is proven to work. Anyone can alter a welding helmet and call it "customized." The best helmets will give you real advantages through that customization process.
Why Is Wearing a Proper Welding Helmet So Important?

One of the most common injuries that occur to welders happens to the eye. The bright flash of an arc might seem harmless at the time, but over the course of a day, that light exposure can create high levels of eye fatigue. Unprotected eyes can literally burn due to the welding process if the exposure is long enough.
Poorly designed helmets also tend to put a lot of weight on the welder's neck and shoulders, which also causes fatigue and pain over time. If left unaddressed, these issues can also lead to long-term issues that can affect the quality of life for the welder. If poor posture is being used while welding, these issues can be magnified several dozen-fold.
A customized welding helmet offers a better level of protection against these threats to one's personal health. Whether it is a fixed shade or an auto darkening helmet, eyestrain can be reduced while looking at the bead being formed so high-quality work can be performed. Lighter helmets also reduce the need for nodding, neck twirling, and shoulder rotation to lessen the pain and fatigue being felt.
Maybe the best reason to wear a proper welding helmet is that it improves personal productivity. Helmets that are comfortable allowing for longer periods of work. Helmets that are effectively protective will reduce user downtime. This means there is a lower risk of hazard exposure with every joint that is formed.
What Are the Key Factors to Look at in a Customized Welding Helmet?

The modern welding helmet has been designed with the lightest and thinnest materials possible without compromising the durability of the protective equipment. This includes a half-mask respirator to protect the welder from the fumes that can form when working on certain metals or using certain shielding gas options.
Headgear technologies are another customization feature to consider. Head shapes are generally standard for most welding helmets. With a cool and custom welding helmet, you can receive a flexible, secure fit that is directly shaped to your head size. This minimizes the pressure points that can form from long-term wear, preventing the formation of helmet-related headaches.
Color and design are other key factors to consider when you're looking at customized welding helmets. Black is the standard color for many helmet manufacturers, but this also means they absorb more heat during the welding process. Silver helmets can reflect some of that heat. Other color options and designs can also add some of your personality to the personal protective equipment you wear while you work.
How the Best Cool and Custom Welding Helmet Reviews Help

Every working space has specific hazards that can be identified. Whether you're welding at home or you weld every day to earn a paycheck, it is important to counter these hazards with the features that are available in the modern customized welding helmet. This way you can weld in comfort and without restraint.
Each review for the cool and custom welding helmets in this category focus on the key features which will improve the welding experience. Look for these key points in each review.
Weight and Balance. By customizing your helmet, you can improve the balance of it while still reducing the overall weight of the product. This lessens overall fatigue, minimizing the torque that can be placed on the neck of the welder.
Viewing Area Improvements. If you are a professional welder, then you can benefit from an extending viewing area with specific darkening features that protect eyesight. For home welders, smaller viewing areas can save you some cash without compromising on the eye protection.
Better Clarity. There are fewer impediments to viewing the welding area with a customized helmet as well. You can have room for your glasses, a respirator, or not need to worry about damaging your contacts when the welding helmet is able to meet your needs with consistency.
Since 1937, the primary concern of a welding helmet has been to prevent cornea inflammation and retina burns. The ultraviolet emissions that are produced by the modern welder can also create facial burns that are similar to a sunburn, even if the amount of time spent welding is minimal. If you can protect yourself from these issues, as well as the gasses and splashes that are present in the welding environment, then a customized welding helmet is an investment that will keep paying dividends with every project you take on.
Pricing Options for the Best Cool and Custom Welding Helmets

Because of the cost of customization, the welding helmets in this category tend to sell at the upper end of the pricing spectrum for this protective equipment. It is rare to find a custom welding helmet for less than $200. This is because you're paying for the basic helmet structure, its customized features, and whatever artwork or colorization that may be on the outer shell.
For helmets with extensive artwork, it is not unusual to see a retail price of over $400 in this category.
Most welders can find at least a few customizable options that can meet their needs for around $300. This is especially true for welders who shop online for their new helmet instead of ordering it direct from the manufacturer or customizer.
Our Guide for the Best Custom Welding Helmets