The absence of a good welding table can make finishing your projects more difficult. The best welding table is a must-have whether you are a hobbyist or a professional welder. It's a good thing that there is a plethora of options out there.
Use this guide to help you sort through your various options. We did all the work for you and found the best welding tables out there with the highest rating and the most reliable features. We also made sure these are all from reputable brands who can back up their products with excellent service.
Comparison Chart for the Best Welding Table
Best Welding Table Reviews Reviews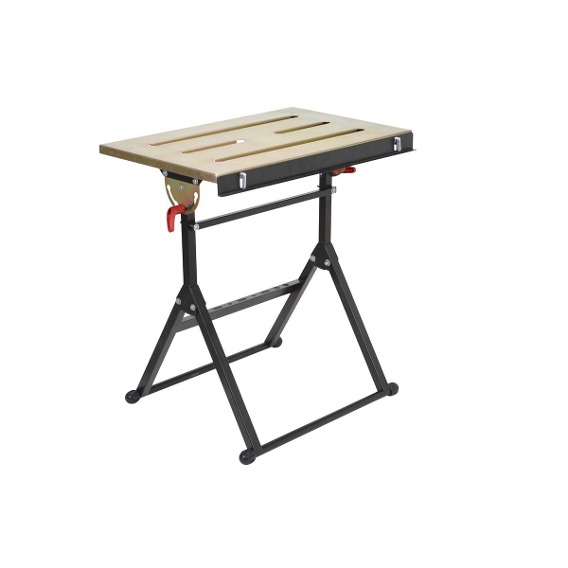 "This is a sturdy and capable welding table for anyone who doesn't want to spend a lot of money."
The reason why we recommend this welding table is because it is cheap and it does its job well. It's a good choice for anyone who just wants a welding table that will cater to their needs without spending an arm and a leg.
Pros:
It is surprisingly solid and holds up well against a good amount of abuse. Even if you weld daily, that is no issue with this table. We also find the weight ideal. It doesn't feel flimsy and has a stability that ensures no accidents will happen while using it.
The entire length of the table is 30 inches and its surface width measurement is 19-7/8 inches. At only 36 lbs., it is capable of handling loads of up to 350 lbs. Despite being quite affordable, this welding table has a solid build, having been made from heavy duty steel and treated with a zinc plating.
"The legs feature a trestle style and they are also reinforced, hence the stability."
The size is just right for all sorts of uses. It offers a good amount of work surface for small and big projects alike. When not in use, simply fold it and then store it. It can also be adjusted in different angles. It can accommodate up to 5 different angles to cater to your needs.
This isn't difficult to use. It opens up and folds down without a hitch. There are no complicated parts that need to be installed or assembled. In fact, assembly only takes a few minutes. After that, it's ready to be used.
Cons:
The instructions for assembly could use some improvement. If you don't have prior experience assembling furniture or tables that require the use of a lot of nuts and bolts, you can get easily lost simply because the instructions were inadequate.
We wish the handles were also made from the same heavy-duty metal as the rest of the table. It seems to be made from plastic and it's uncertain how that will hold up against exposure to heat.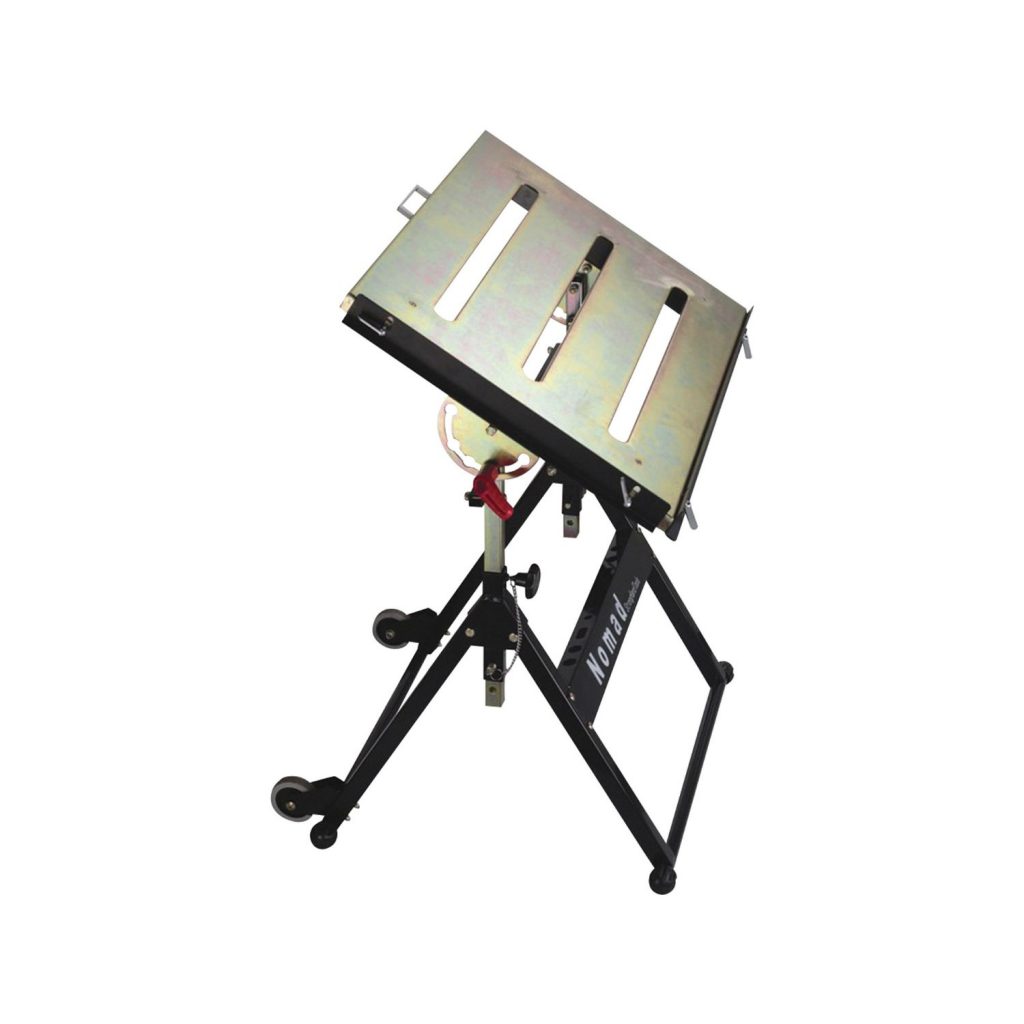 "We recommend this to hobbyists, occasional handyman and to professionals who are looking for more portable and more reliable welding tables."
This is the best welding table because it isn't just durable and resistant to damages, it is also portable and flexible. If you want to bring your welding table with you anywhere, get this.
Pros:
It folds down to a compact size but offers a tabletop surface of 30 inches in width and 20 inches in length. The height can also be adjusted from 26 inches to 32 inches. There are three slots on the table with 1.1 inches in size and can accommodate up to 30 degrees in angle. This table weighs just 44 lbs. but can hold up to 350 lbs. of load.
"Although it already has a fairly good surface size, that can be extended if you use the Nomad Connector Plate."
We recommend this to welders who are looking for versatility. You can combine two of these tables for a bigger work surface. That will let you work on bigger projects.
Unlike the previous one, this comes with two casters. You can fold it down and then wheel it around if you find it too heavy to carry. We think this is a good choice for those who don't want to carry around a heavy table. It is easier to bring to work sites as well.
This welding table is quite easy to use. It adjusts seamlessly. It also locks in without a problem. Clamping can also be done easily. Assembly doesn't take a lot of time if you follow the instructions closely.
Cons:
One problem we see with its design is that its stability is greatly dependent on the weight of what you are working on. That means if you are working on something light, it can feel a little unstable. It's not enough to topple the table over but if you prefer a more solid lockdown, this might not be a good choice. You need to be extra cautious when shifting heavy objects on it.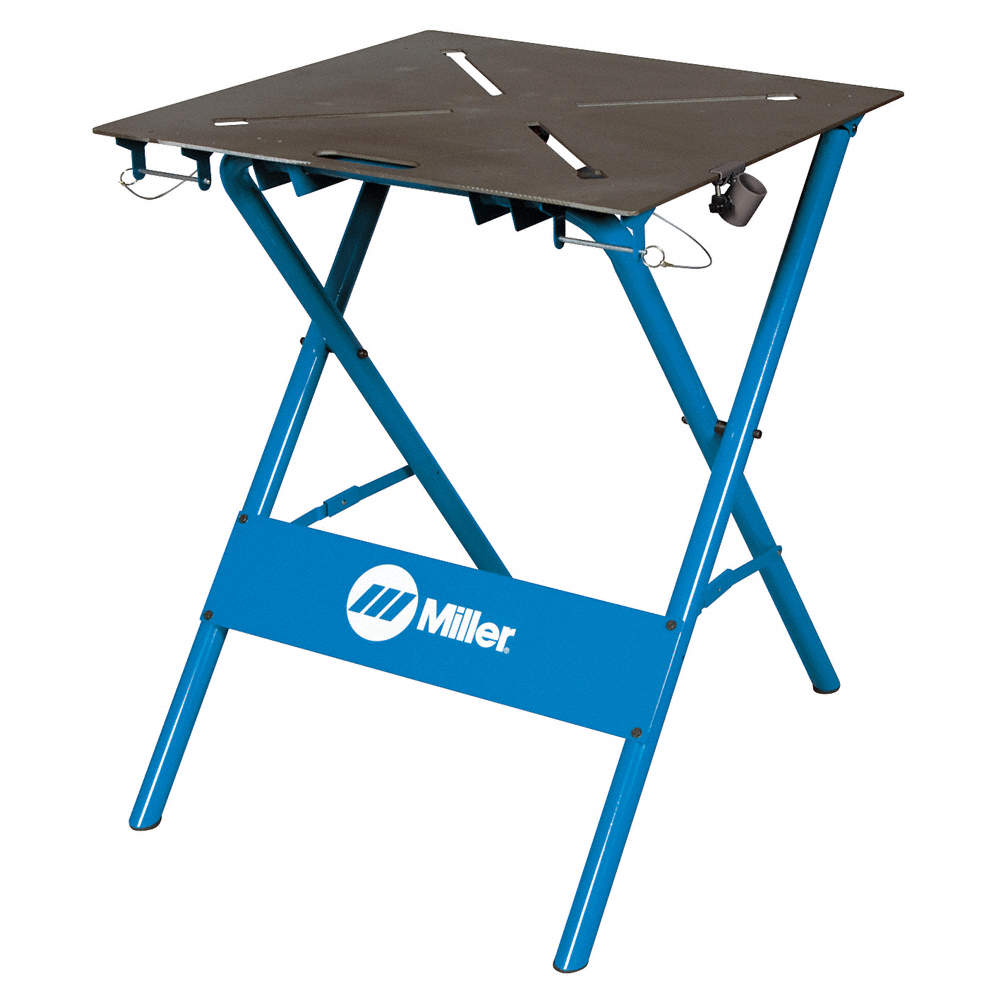 "This is a heavy-duty work table for people who frequently work on bigger and heavier projects."
This multipurpose workbench can be used for a variety of projects including welding. It is sold at a premium price but perfect for anyone who just want the sturdiest work table that can handle whatever is thrown at it.
Pros:
When unfolded, it has a height of 35 inches. It is capable of accommodating 500 lbs. of load, which is more than what the previous work tables can offer.
"Unlike the previous ones, this has X-pattern legs."
The X-pattern legs distribute the weight easily and ensures that tabletop remains sturdy no matter how heavy the things you put on top of it are. It also makes it easier to clamp your metals on its surface. The frame is 1 ½-inch in diameter, so you can expect better support from this compared to the previous ones.
It is every portable. It can be easily folded down and it also has wheels for easier and more effective transport.
It has a lot of nice features that make working more convenient such as the gun holder. You can place your welding gun here when not in use. It is also removable, so if it isn't needed, you can get rid of it.
It holds up well against many years of abuse. Even after heavy usage, it's still as good as when it was first bought. The top is made from real plate steel, which can effectively withstand high levels of heat. It is different from others that only make use of sheet metal.
Cons:
It's quite a pricey table. The price is almost double the price of the previous one. If you are only after something that is easy on the budget, you might find this too expensive.
Conclusion
If you are a serious welder who want to buy the best tools and equipment that will last you for a long time, you would want to get the Miller Electric ArcStation Workbench. It's quite the pricey welding table but we think it is worth it due to its sturdy build. It's bound to last you for a long time, so you can get what you paid for.
The Strong Hands Tools Nomad Welding Table is what we recommend for the welder who is always on the go. If your hobby or your job requires you to move from one place to another or transfer from one site to another, this portable, lightweight but sturdy welding table should serve you well. The price is just right, not too expensive but not overly cheap as well.
We recommend getting the Chicago Electric Welding Adjustable Steel Welding Table for serious hobbyists. It is the cheapest but it can still bring a lot of durability to the table. Although lacking in some features as the previous two such as casters and accessories to holster your welding gun, the stability and the adjustability of this welding table more than makes up for it.
How to Buy the Best Welding Table
What should you look for in the best welding table? Take the following factors into consideration, so you can get the best one:
Materials
Keep in mind that the welding table will be exposed to a lot of heat. It should be made from a heavy-duty kind of steel that is resistant to high heat, corrosion and rust. Check how thick the legs are as well. The legs should have more than an inch of thickness in order to provide a sturdy base and to accommodate heavier loads.
Adjustability
Find out how many times you can adjust the angle. Welding is an intricate process, which is why you need to have easy access to what you are welding. Having the capability to angle the desk to make it easier to see what you are welding is a nifty feature. Welding tables have different adjustable levels. Some can be adjusted to as many as 5 angles while others can only be adjusted to one or two angles. Decide the adjustability you need for the projects you frequently work on.
Capacity
"It should be capable of accommodating the weight of the material you are working on. (1)"
If you frequently work on heavy metals, you definitely should go for something more heavy-duty with thicker legs that provide more stability. However, if you are only a hobbyist and your projects usually just involve working on small pieces of metal, something more basic should suffice.
Convenience
Many welders don't have a lot of space in their work area for a big table. A foldable welding table is a good option. Having one with a pair of casters is also a good option as this will make it easier to carry a solid metal welder table anywhere you want.
Clamping Slots
You would want to ensure that what you are working on will be held in place. Find out if the table has features that will allow you to clamp down the metal to hold it in place.
Frequently Asked Questions About Welding Tables
Learn more about welding tables with these frequently asked questions:
What is the Purpose of a Welding Table?
The purpose of a welding table is to add more height to your work area, so you can work at waist level. This reduces the need to bend down, which makes it easier to fabricate and weld metals together. It also provides more surface stability, so you can do a lot of functions such as measure and square. Welding tables can also be used for other purposes such as a storage space for your welding tools and even as a woodworking area.
What is a Good Size for a Welding Table?
A good size for a welding table is 36 inches x 60 inches. That should be enough for basic welding work. You can also do a lot of projects on this. However, it still depends on your needs. If you work with longer and bigger metals, obviously, you will need a bigger welding table. Assess your needs first, so you can find a welding table for your needs. Some welding tables can also be combined or joined to make one big work table.
What Should a Welding Table Be Made Of?
A welding table should be made of a durable steel material. The top should be made from a heavy-duty steel that has a minimum of 3/8 inches of thickness. Carbon steel is a good option because it is more durable. As for the legs, it needs to be sturdier in order to hold the weight of the welding surface and the metals you are working on. Angle irons make for a good material for the legs.
What's Next?
Make sure you read our complete guide on the best welding gears and equipment. Be guided on which of the products out there are the best choices for different welding skill levels.