Protecting your eyes from welding spatters and intense glare is a must. You don't even have to question it. Those tiny spatters and metal slags could inadvertently get in your eyes. But that is something you can prevent if you wear the right welding goggles.
Our picks are some of the best in the market. You need not look further because these welding goggles can provide you with the protective features you are looking for. We only picked those that are durable and will last you for many more years to come.
Comparison Chart for Welding Goggles
Welding Goggles Reviews: Our Reviews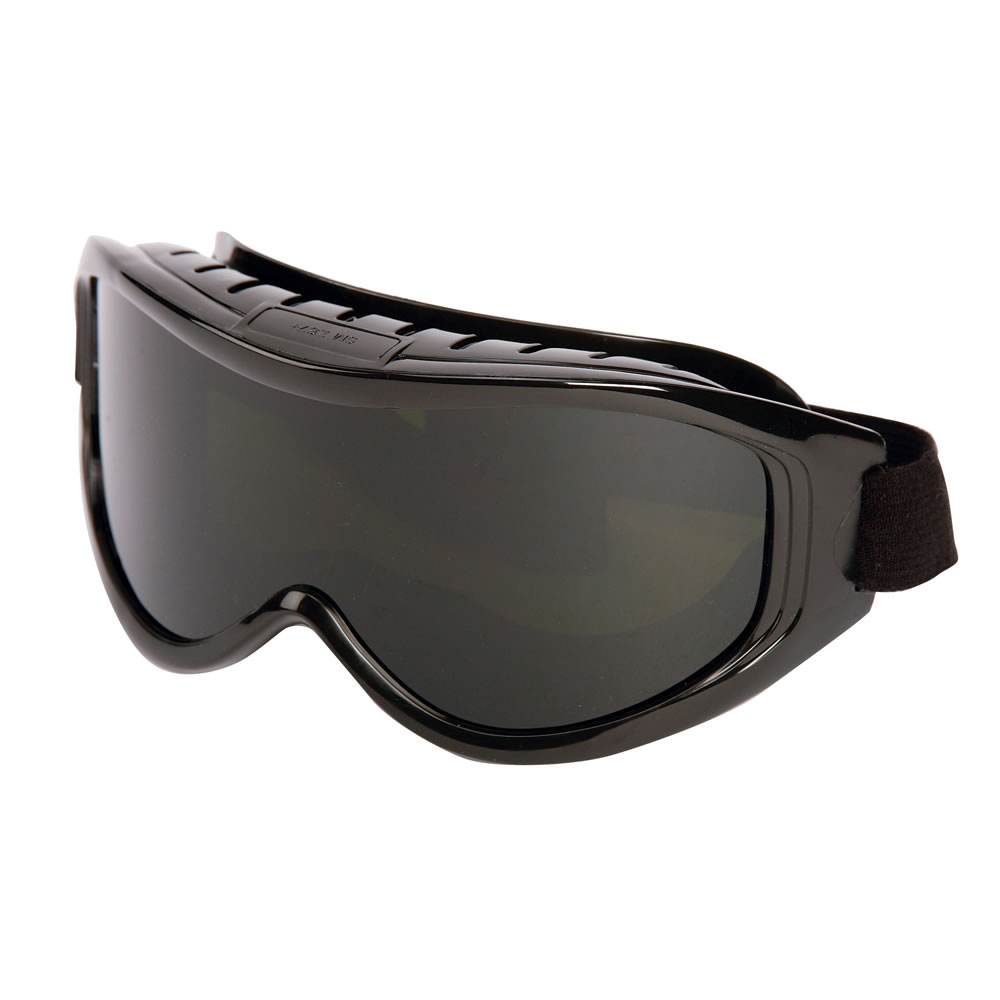 "These goggles are the best for hobbyists and professionals alike who are looking for extra eye protection when welding."
These goggles deliver comfort and quality at an affordable and accessible price range. It is made from plastic straps and polycarbonate lenses. The lenses are a shade 5 and provides protection against UV rays and infrared light. The top of the lenses feature vents to keep fogging at bay. Although it is not expensive, it does have a lot of good quality features you can find in more expensive models.
Pros:
You can wear it over your prescription glasses and use it for a variety of industrial needs. Whether you do DIY projects or you are a professional working on more intricate welding work, this will suit you well.
"We like how versatile and multi-purpose these goggles are."
These goggles are quite comfortable to wear and doesn't feel stuffy or tight after hours of usage. They offer a snug fit and seal but the vents really help in dissipating heat, so they aren't that difficult to use in the summer season. The plastic material is also flexible enough to conform to the shape of your face.
These goggles never fog up. And since the lenses are clear, you can wear them for other purposes as well. If you frequently do your projects outside the garage or your home, you will find this just right for your eye protection needs.
We like the design of the goggles. They provide enough space between your eyes and the lenses, so it doesn't feel constricting. It also reaches all the way up to the hairline, which is great for better upper face protection.
There is no need to retighten the straps after a few hours of usage. It remains tight. You can wear it and forget about it. It is that convenient to use.
The lens is big. Unlike those steampunk welding goggles that provide just small rounded lens, you have a better and a wider view area with these goggles.
It offers a good amount of protection from chemicals as well, so if you work with chemicals, you might find this a good buy. There are also other versions of this in the same product line that is better for chemicals such as the Odyssey II Chemical Goggle and Chemical Splash Goggle that you can buy for such a specific purpose.
Cons:
The shade 5 of lenses that came with it are not sufficient enough for arc welding but can be replaced for darker shades if you are looking for more protection.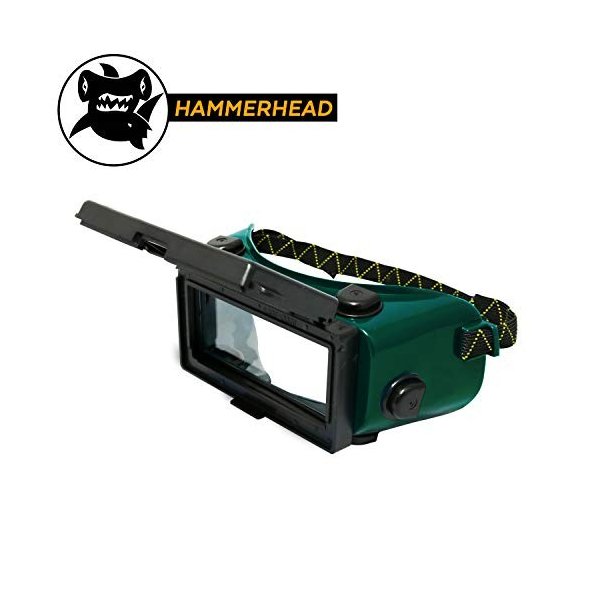 "These goggles are made from high-quality materials that can be ideal for professional welders."
The KwikSafety Hammerhead is a professional-grade goggle that does its work in keeping UV radiation and away from the eyes. It comes with shade 5 lenses, and has a frame made from PVC material. The lenses are clear enough to wk as everyday work goggles, not just for welding – a great option and value for the money of people who want a more versatile choice.
Pros:
"These goggles have a flip-up front."
The flip-up front makes it easier to switch from shaded lenses to non-shaded, so you don't have to take these goggles out when you have to work on other things and then put it on again when you need to weld. It's very convenient to use, which is why if you are an all-around handyman or worker, you will find this a good choice. The flip-up hinges are also quite sturdy and can withstand flipping up and down multiple times.
These goggles can be used for different applications such as plasma jet welding, brazing, soldering, sandblasting, woodworking and many other welding applications. You can even use it to do landscaping. It's really quite the versatile choice.
We find the fit snug and comfortable. The lenses are wide and provide an unobstructed view of what you are working on. They are big enough to accommodate prescription glasses.
Just like the previous goggles, these goggles also feature indirect vents. These goggles have a total of 6 indirect vents and there are also pressure equalizers found on different sides of the goggles. This eliminates the chances of experiencing fogging up.
The body of these goggles doesn't feel as rigid as others. Some people might find this a negative but if you like the added flexibility, this should feel just right.
Cons:
It might not feel that comfortable around the nose area for some people due to the design. Replacing the lenses is also quite tricky. The information provided for it is insufficient.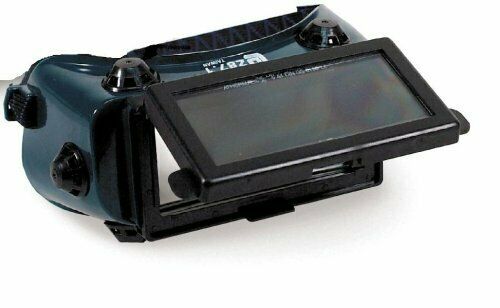 "These welding goggles are perfect for all sorts of DIY and professional welding projects."
These goggles are similar in style and features as the previous one but can be considered more reliable because of its durable features. It also comes with Shade #5 lens, which is applicable for oxy-acetylene welding. The glasses lenses have 2 x 4.24-inch of size to provide maximum field of vision. We think this is similar to the previous one but is more stylish and has better reliability when it comes to materials.
Pros:
These welding goggles can get the job done. They do provide a good level of protection, but you can still swap up the lenses for a darker shade one if you do overhead welding and other welding applications that require darker lens shade. Unlike with the previous model where changing the lenses can be tricky, it is easier to replace the lenses of this one.
We like how you can wear prescription lenses under these goggles without feeling constricted or feeling additional pressure. The elastic bands are comfortable to wear for an extended period of time.
The flip-up lens is a nifty feature that make these welding goggles more flexible to use. You can also just slightly flip it up if you want to take a closer look at what you are doing without completely removing the shade.
Although these goggles are essentially the same as the previous one, these are less expensive. If you are looking for a less expensive option, go for this one.
The elastic band is wider, providing a better fit. The glass lens is also sturdy and the flip-up hinges also feel solid and stable. They also feel light weight, so you can wear them for hours without feeling tired.
Cons:
It doesn't have the best seal. The edges don't feel as tight as the other ones.
Conclusion
The Hobart 770095 Welding Oxy-Acetylene Goggle and the KwikSafety Hammerhead Industrial Welding Goggles are similar in design. If you are looking for a less expensive option, Hobart is a better choice. It's great for both industrial use and for occasional welding. KwikSafety is also a good option for those looking for more durability. It's not as easy to customize as the Hobart but you will like how comfortable and durable it is. It really boils down to preferences in comfort and price.
Our overall best is the Sellstrom S80210 Odyssey II. It's reliable, it's not that expensive, it's comfortable to use and it looks great. You can change the lens to something darker if you prefer. These are also less clunk compared to the previous ones with their hinged lenses.
Factors to Consider When Buying Welding Goggles
"Eye injuries are mostly irreversible. And since your eyes are the most delicate parts of your body, you need to go the extra mile in protecting them with the help of welding goggles. (1)"
Here are a few factors to consider when buying welding goggles:
Style
There are different styles of welding goggles today. You can get the flip-up ones, the laboratory style ones or even the steampunk style ones. Which one you should choose will depend on your personal preferences. If you want to check your progress without removing the welding goggles completely, the flip-up ones are more convenient to use. You can simply flip the lens up and then check your progress.
Shade
The shade level is important as it determines how safe your goggles are to use. Many welding goggles today come with a basic Shade #5. It should be good enough for simple welding work but not for arc welding and other applications that usually expose the eyes to more glare.
When choosing welding goggles, make sure you will be able to easily swap out the existing lens with one that has a higher shade. Now this will depend on the design of the lens. Make sure you will be able to find replacement lenses that will fit in the goggles.
Comfort
If you plan on welding for hours, make sure the welding goggles are comfortable to use. First, look for those with indirect vents. That will allow air to dissipate and flow inside the goggles to prevent fogging and discomforts during the summer season. It can get inside the goggles, which is why vents are a must.
The material of the frame should be comfortable. It should have a nice seal that will keep the goggles from sliding off but without digging in your skin. The strap should be thick to keep the welding goggles in place. Make sure the straps are also completely adjustable, so you can adjust the goggles to your preferences.
If you wear glasses, make sure the goggles can also be worn over your glasses comfortably. There should be enough space between the lens and the goggles, so you won't feel like the goggles are constricting your eyes.
Materials
Look for welding goggles that are made from durable plastic materials. Since you will expose the welding goggles to intense heat, it is imperative that they are resistant to high levels of temperature. You don't want the materials to melt on your face.
Also check the lens material. It should be resistant to breaks and scratches.
Frequently Asked Questions About Welding Goggles
Here are more things you need to know about welding goggles:
How Can I Protect My Eyes from Welding?
You can protect your eyes from welding glare by wearing safety goggles. But aside from that, you can also wear welding masks. They are better because the shade level for the lens is higher and they provide complete face coverage.
Does Welding Affect Your Eyes?
Yes, welding does affect your eyes. Welders can suffer from a condition called photokeratitis when exposed to the glare of welding. This is actually caused by the exposure of the eyes to the UV radiation inflicted by welding. It burns that eyes can lead to long-term vision impairment and even permanent blindness. It also causes discomforts such as pain, gritty feeling in the eyes and sensitivity to light.
How Long Does Arc Eye Last?
Arc eye or welder's flash can last for hours or days. It usually takes a day or two for the damaged cornea to repair itself. Often times, it heals without permanent scarring. However, if it isn't properly treated, it can lead to infection, which can be a more serious problem.
What's Next?
Now is a good time to find more reviews of great welding accessories. Do check out our comprehensive reviews and our product buying tips, so you can buy the best welding accessories for your needs.