Last Updated: by Alfred Byron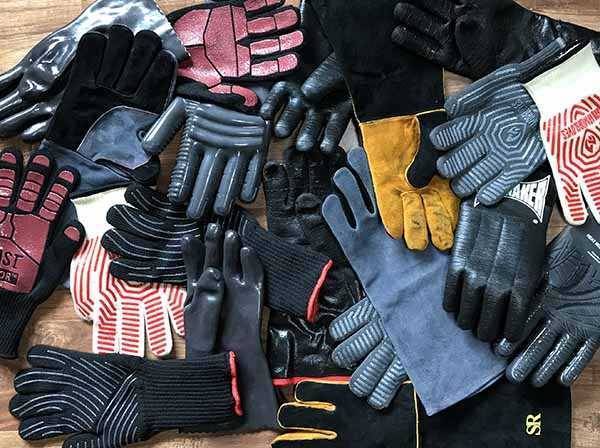 Welding work will inevitably expose your hands to high heat and flames. That is not to mention the slags and spatters that could potentially get in contact with your skin. Every welder knows how important it is to wear proper gear, particularly with the hands as it is exposed to heat and flames, spatters and slags more than the rest of the body. Having said that, finding the right pair of gloves is imperative.
But hold that thought for one second. What type of gloves protects your hands from heat and flames? Which of the glove types out there are truly the most effective?
Types of Gloves According to the Process of Welding
What sort of welding do you do? That can significantly narrow down your decision when it comes to the type of gloves that will work best for your needs.
If you are doing MIG work, then you should look for gloves that are made from deer hide, pigskin or cowhide. That is because MIG welding work typically needs a bit more hand dexterity, so you can perform those more intricate welding work but still get top-notch protection. When it comes to this, the best are the materials mentioned above.
We also suggest getting goatskin gloves with a good quality and preferably with a lining that is heat resistant. Since you often deal with higher heat levels and more spatter when doing MIG work, you need to get the best protection possible. The gloves should follow the shape of the hand without compromising movement.
TIG gloves should provide more finger sensitivity, so you will be able to perform more difficult welding work. And when it comes to this, the best choices are the gloves made from pig hide, cowhide and goatskin. These materials are usually thinner and more pliable, so they can provide you with more hand movement than other materials. These gloves can help you in creating more precise welds using your TIG torch. Since TIG does not often lead to a lot of spatters, you will most likely get the right amount of heat and flame protection even when the material is a little thinner.
Don't worry though because most gloves for TIG welding are padded around the palms. The padding can even extend outside of the hand, so you can still get maximum protection when touching hot surfaces. You will also be able to quickly slip your hands out of these gloves in case it gets too hot. There are also gloves incorporated with wool foam or Kevlar lining for more excellent heat protection.
These gloves are for Stick Welding. The gloves for this type of welding are usually the most resistant to flames and heat and have the most substantial build. This is why these gloves are typically made from cowhide or even elk hide. Since you don't need too much hand movement and dexterity, thicker leather materials can be used to make this type of gloves.
Types of Leather Gloves to Choose From
Leather is the commonly used material to make gloves for welding or for any other work where you will have to expose your hands to high heat and flames. Here are the various types of leather materials out there and what their differences are:
This leather material offers the perfect balance between flexibility and durability. It performs well and is the most resistant when it comes to heat and flames. Unlike other high-quality leather materials like cowhide, it doesn't harden easily even when exposed to high heat. That means it can still give you a good amount of hand flexibility and dexterity when using it.
If there is a leather material that can protect you from higher heat levels, this is it. It has more effective heat resistant properties that can be useful when exposing your hands to hotter temperatures. The downside to this is that it isn't as flexible, so if you need more flexibility in hand movements, you might find this difficult to work with. But for its durability, it is a top-notch option.
This leather material boasts of breathability. It is more comfortable to use when you need to weld all day as it doesn't trap heat inside. Look for pigskin gloves where the tough side is on the outside so that you can feel more comfort with the softer side on the inside.
It is very soft but doesn't offer as much heat protection as the others. However, it makes one of the most comfortable gloves that work in providing you the hand flexibility that you need.
When it comes to excellent dexterity, this is a good choice. It still gives you a good amount of protection from heat and flames but not as much as the previous ones.
Now keep in mind that manufacturers may mix these materials. It can have an elkskin exterior and a goatskin exterior for a balance of good dexterity and protection from slags and spatters. When choosing which gloves to use, consider scrounging the materials used. Also, if you are using leather materials that have more dexterity, you might be able to find those that include additional materials such as Kevlar that will add more protection not just from heat and flames but also from cuts and abrasions.
It is also important to know what grain side and split side is. Split side refers to the flesh while the grain side is the side where the hair of the animal grows. Split leather has a different feel to grain leather. Split leather is similar to suede in texture. It is also thicker. Grain, on the other hand, is smoother and shinier.
Aluminized Gloves: An Alternative
This is a type of material that has a natural heat resistant surface that reflects heat so that it doesn't penetrate the material. It is effective on most types of radiant heat such as welding heat. A lining that prevents the build up and the conduction of heat completes the set up.
See to it that you are wearing the right gloves before starting any kind of welding project. Learn to choose good quality products that will last you for a long time.
For gloves to protect your hands from flames, check this link.